Martin posted this when he passed the exam back in 2016 on the CLN Unleashing CCDE site, you can view other posts here and aim to post your own once you have passed!
So how hard can it be to earn a CCDE? It's just a rubber stamp to show that you have been working in design for a number of years, isn't it? Well not quite. You have to really prove your experience and knowledge in a number of fields, encompassing a variety of roles that not every candidate would have been fortunate enough to have undertaken prior to gaining that prestigious CCDE number.
If you were like me, you got on a plane and proved over two days to Cisco you could make their routers and switches dance. They in turn gave you a CCIE number. You could recite config and fix problems in minutes rather than hours. Then, just when you were at the top of your game and usefulness paying back for your rack time and coffee debt, you were dragged away from the CLI kicking and screaming and ushered into the design world. Being a CCIE unfortunately doesn't automatically mean you can design well. You might be able to keep a poorly designed solution running by tactical fixes, frequently, but the CCDE has the ability to ensure the solution meets the actual functional and non-functional requirements and is fit for its purpose from day 1. If the requirements happen to change, then the thought process has already been undertaken (and more than likely documented) to ensure the solution has the ability to grow or divest without bringing the whole network down for some "unscheduled maintenance". I know people who are great Architects, but they have been burned by the CCDE lab exam. You may be the go-to person in a Service Provider for MPLS or BGP, but how is your enterprise EIGRP? You could be the DC guru who knows fabric inside out, but how are your WAN skills? Which protocol is best suited for the job? Does it help being a CCIE? Definitely. Does it get in the way? Definitely. You don't need to have a CCIE, but to be honest I do believe it does actually help. If you have one or two (R&S and SP are quite a nice combination) you'll understand the technology and you'll understand the complexity of a Cisco expert level exam. It can, however, get in the way as you can end up focusing on the lower level details when you need to be looking at the bigger picture of how a solution can scale or be managed efficiently by making the right technology choice that meets the given requirements. So let me give you some insight into my journey and how I managed to get past the 60 limit.
Take 1
I was excited. I was going to be a CCDE and join the elite club, and I was maybe even a little over confident in hindsight. I've been involved in some really interesting projects, worked for some blue chip companies and have been privileged enough to work with Cisco press, so how hard could it really be? It was an 0430 start, and I didn't sleep well the night before. I went in a CCIE and I came out a CCIE. I found it unbelievably hard, it was a whirlwind. I was overwhelmed with requirements and emails throughout the scenarios. I had been staring blankly at questions all day, answering them as if the exam was just looking for best practice and, due to my poor time management, I wasn't able to locate what the customer actually required. I couldn't remember a single question when I left the test center. I hadn't experienced anything like it. It was brutal even though I had been studying to the best of my ability. You only get a score if you are unsuccessful; clearly I got a score. I made approximately 60% – close, but no cigar as they say.
I didn't sleep that night, and my mind was racing. I was really disappointed. A couple of days after the exam I went to get a haircut. The stylist could tell I wasn't my normal self (over and above longer hair than normal). "You ok Martin?" she asked "you seem a bit distant." How do you explain the intricacies of the CCDE exam to someone who has most likely never heard of it when you are feeling down?
"I just took an 8 hour exam I'd been working on for quite some time. I didn't get it so I'm feeling a bit sorry for myself."
"Oh really, what was it about and were you close to passing?" she asked.
"IT and approximately 60%. It was a killer" I replied.
"So did anyone else pass?".
"Yes, I think so but there are only around 250 who have passed, I believe" I told her, citing some un-confirmed 2013 numbers I thought I'd heard.
"What, when you took it?" she said.
"No globally, since it had started" I replied.
She couldn't believe it. She remarked that with only 250 people passing in the world I shouldn't be unhappy because I only made 60%. I should be over the moon! It was a great mark for such a clearly difficult exam, and I had nearly got it by the sound of it. "Actually I think you've got a good point there!" I said as I left, leaving a larger tip than usual and brushing the hair and negativity away. I was going to get it next time for sure I thought to myself….
Take 2
I should have taken the next available slot but the perfect little Jake Duggan came into the world one month before it so I put the books down and picked up on sleepless nights and nursery rhymes. When Jake was able to walk and talk I figured it was time to pick up the pace again and put everything into it. I was sharper technically, but I was still aware of the issue with my time management and the requirements that really hindered me previously. However, I wanted to pass even more this time. As such I was studying down to the wire. I couldn't sleep the night before and had foolishly booked an 0500 train to get me to central London on the day of the exam. It hadn't even occurred to me to sleep over close to the test center. So, I studied on the train instead and didn't sleep a wink. As you can imagine the exam was carnage. I couldn't concentrate, I was bombarded with documents and emails, I ran over time in every scenario, and I lost track of who my customer was and what I had to do within each scenario. I took 20 minutes for lunch as I thought I wasn't going to pass anyway and wanted to get home where a cuddle from Jake would be priceless. I could tell some of the answers weren't correct even when I clicked them as I wasn't seeing my real world perfect answer in front of me. How did I score? 60 again. I was actually surprised. I went in a CCIE and came out a CCIE once more.
3rd Time Lucky
I attended the CCDE Cisco Live Techtorial in Berlin prior to my next attempt and booked one-on-one time with Elaine Lopes and Yuri Lukin. The whole team was really accessible and they were very keen to offer help and advice. This was invaluable for me and a turning point. I learned not to be too hasty in my decisions and not to answer the questions based on the facts in front of me but to scan the documents when something wasn't clear. I was missing clues and needed to be neater in marking what was really important. My technical ability was at the correct level however. The differentiators in the questions are so well thought out that you really have to fully absorb the scenario and the requirements presented within it to be successful. I went over Jeremy Filliben's labs again and spoke to him on the answers I wasn't sure about. I really enjoyed taking these. You seem to pick up new things each time around and he's very approachable and will provide ongoing support. I signed up for Orhan Ergun's bootcamp, which was really useful and gave me an opportunity to go over the theory, design quizzes and some scenarios again just before the exam. I found his comparison charts a really useful element of his training. Possibly the most useful resource was being part of a study group that my friends Daniel Dib (Señor Network Architect) and Kim Pedersen started. We pretty much had the dream team in our study group. We were blessed with the presence of Russ White, the "daddy" of the CCDE exam, and I was able to ask him questions around the logic of OSPF ABR placement and LSA filtering from one of his books as it was puzzling me. He even gave me some brilliant last minute advice -"read the question" he said! It proved to be simple and sound advice which made me laugh at the time. I made sure I did read each question, at least twice. I had even filled in a table with multiple answers when I remembered the advice and read it again and found I only needed to check one box on one column but actually had completed two, thanks Russ! I checked into a hotel the night before and I actually managed to sleep; not my best night's sleep, but I was already in much better shape than previously. This time I believe I went into the exam as a CCDE already. I had a much better idea about what was required and was better prepared technically with my weaker areas already previously identified and strengthened. All I had to do was convince the test engine. My first scenario flew by. I felt it went really well and I even finished 30 minutes ahead of schedule. I had the luxury of a two minute break outside the room for a quick glass of water. The second scenario felt more complex and I ended up using all the time I had saved previously taking me right up to lunch. As I left for lunch, I thought one of my study buddies who was also taking the exam was going to grab a sandwich with me, but he was actually returning from lunch! We looked at each other for a second as we passed and seemed to acknowledge just how hard those two scenarios where in the blink of an eye. I took my full lunch, had a stroll and some coffee. You really need a full break as it is a real marathon of a day. The third scenario took me exactly 2 hours. I was a little preoccupied with the timing as I had run out of time on my previous attempts and wanted to have at least 2 hours for the last one. I really felt like throwing the towel in as the fourth was particularly complex, but I ended up with six minutes to spare for the last question. This was a real luxury, so I took all of them. I was really close to changing my answer but went with my gut feeling and clicked next with 30 seconds to spare. There was a pause. I was somewhat surprised when it said "Pass" on the screen, so I just sat there staring in disbelief. It must be a bug (sorry feature) I thought, but it seemed to be correct, and the proctors were laughing at me as I started punching the air! "I take it you passed then?" they said "Yep" I replied. "Can I have the print out before the system crashes?" I joked with them.
Lessons Learned
The practical exam is very tough, but it is fair and it is achievable, which is what makes it so desirable. If it is your goal or ambition to become CCDE qualified then you are very likely to reach it. If you are thinking, "I'll give it a shot as I've been in the industry for 10 years and design on a daily basis" then don't be surprised if you don't get the cigar immediately. Just remember that if you don't pass on your first or second or third attempt you haven't actually failed. You will only have failed if you give up. The exam has to beat you every time but you only have to beat it once to get your number. It also occurred to me that if you can't explain a technology or how a solution functions or scales to a friend who isn't necessarily even technical, then you don't actually know that technology. It's a case of turning your weaknesses into your strengths. For instance, if you are a guru with IS-IS but have no real world experience of how EIGRP may perform better in certain topologies then it's time to get the books out or speak to your study group. Be prepared for give and take from your group. Play devil's advocate, produce a scenario, and offer to run a study session for your group in your area of expertise. The sum of your group's expertise will be invaluable towards gaining your number. Even if you don't get your number you will grow from the experience.
The exam itself is quite simply a credit to its creators. Most people don't realize the effort that goes into keeping the scenarios realistic, fresh and protected. The team behind it is brilliant. The differentiators are just so good – sometimes you see five correct answers in front of you, but only one will be appropriate to the customer and the scenario, so you just need to connect the dots and find the important requirements that, when matched with your knowledge and experience, will take you to the correct answer. Elaine preaches that you just connect with the scenario, and this time I really did. I finally managed to get past my 60 limit.
Put the books down for a few days prior to the exam. Spend time with your loved ones and be energized for the exam. Take your full break on the testing day, and pace your time. The exam status bar is your friend, not your enemy.
You are going to need some endurance to complete four scenarios in a day. Practice with as many labs as you can as if you were taking your CCIE lab. I like to cycle, and I found I could clear my head and be energized for a long study session after a ride. I certainly couldn't run an 8-hour study session, but I could easily manage four 2-hour ones.
A new friend of mine (Nick Russo on my study group) said to me after I passed "What do you call someone who took 3 times to pass the CCDE?" Oh no. I thought, what are people going to think if I didn't pass the first time? "A CCDE" he said. "You got it, and it doesn't matter how many attempts it takes, well done!" Thanks Nick, much appreciated!
If you aren't initially successful and need a motivational speech with a haircut at the same time just let me know and I'll hook you up. Good luck with your journey, I'm looking forward to hearing about it!
About the Author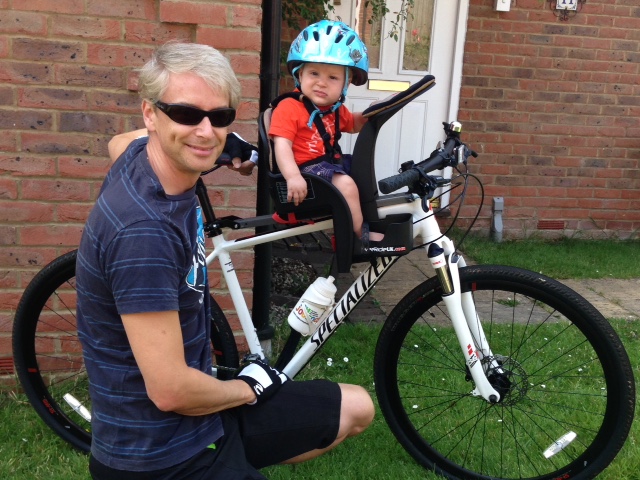 Martin J Duggan CCDE 2016::6 and CCIE #7942 is a Senior Network Architect for AT&T and Cisco Press author. Martin gained his CCIE in 2001 and has been passionate about Cisco qualifications and mentoring ever since.
Here are a few additional ways for us to engage and keep the conversation going: